New Hyundai Tucson in Concord, CA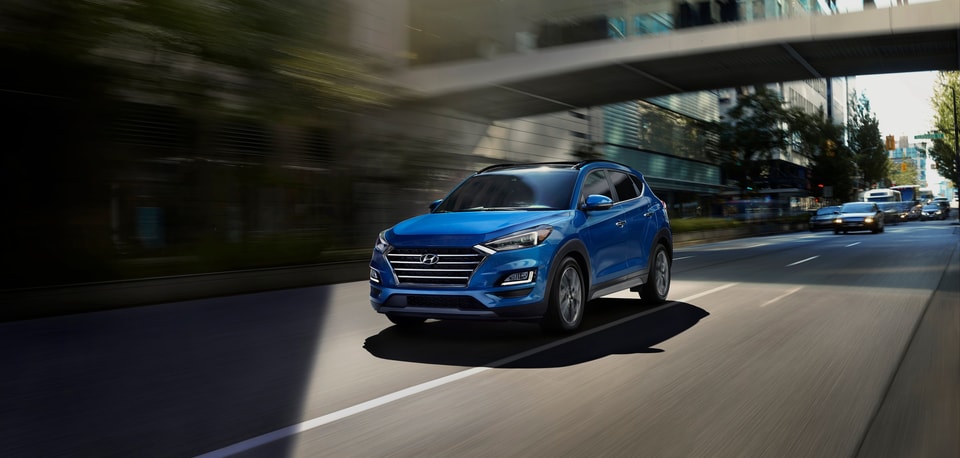 Introducing the 2022 Hyundai Tucson for Sale in Concord, CA
Fully redesigned for the latest model year, the 2022 Hyundai Tucson is one of the top SUVs that you can get this year in Walnut Creek. The newest Tucson SUV brings a fresh look to the automotive market. It has updated exterior styling that gives it more glamour and elegance than before. While the Hyundai Tucson has always had an impressive interior, its cabin comes loaded with even more improvements and updates in the latest model year. The new Tucson also comes with an expanded list of options for performance and capability. The 2022 Tucson now has more engines to choose from, and you can get a hybrid system for the first time in the SUV's history. With all these changes, the 2022 year starts off the fourth generation of production for the Hyundai Tucson.
Key Features
No matter which trim level you get from our Concord Hyundai dealership, you will find that the 2022 Tucson arrives packed with features. You will get great value and an engaging, well-connected ride across the lineup. To start, the Hyundai Tucson comes configured with an eight-inch infotainment system that Hyundai updated this year to provide you with sharper graphics and a more intuitive touchscreen interface. Android Auto and Apple CarPlay are available on all trims with wireless features. Additionally, the standard sound system on the Hyundai Tucson has six speakers for a premium audio experience.
Starting with the second trim level, you will have even more to enjoy. This Tucson trim provides you with a push-button ignition and a proximity keyless entry mechanism. The front seats heat for comfort in cold weather, and ventilation in the cabin extends to the back row. The back seat also adds two more USB charging outlets. A sunroof comes with the next trim, and you'll also get dual-zone climate control. Ambient interior lights on the top trim give the Tucson a sophisticated look and a more refined feel for your Walnut Creek adventures. The top trims also add a digital instrument panel in addition to the standard infotainment system.
With the N Line comes a Bose sound system, and this trim level includes unique accents inside and out. While a sunroof is standard on some trims, you can look forward to a panoramic sunroof on the top trim levels. The Limited trim comes with a heated steering wheel and a larger infotainment system with a 10.25-inch screen. Navigation is available with this trim level and above. Its standard safety features include a surround-view camera, lane-keep assist, and a blind-spot camera that monitors the road ahead to help you navigate safely and with greater confidence. The Hyundai SUV has heated seats in both rows with this trim level as well. The Blue is a hybrid model of the 2022 Tucson. It has the same amenities as the SEL trim but a different mechanical system.
Performance Overview
You can get one of three engines with the 2022 Hyundai Tucson. Most trim levels come powered by the standard engine, a four-cylinder engine with a 2.5-liter displacement. This engine provides the Hyundai Tucson with a maximum power output of 187 horsepower as you travel around Berkeley. The two additional engine options give you hybrid technology. The first is a hybrid system with a turbo four-cylinder engine. This engine uses a gasoline engine and an electric motor for a total power output of 227 horsepower. The top engine is a plug-in hybrid system. This engine and motor provide the Tucson with up to 261 horsepower. The Tucson gets a turbo engine for a greater boost in power, too.
Trim Levels
The 2022 Hyundai Tucson lineup includes:
SE
SEL
N Line
Limited
Blue Hybrid
SEL Convenience Hybrid
Limited Hybrid
Contact us to learn more about the 2022 Hyundai Tucson in Concord, CA. We will gladly discuss the available features for each trim and get you set up to test drive a new Hyundai vehicle.
Get Value on an SUV That Will Last with the New Hyundai Tucson in Concord, CA
Finding the right new Hyundai SUV near Walnut Creek means considering a wide range of models. Among these, the new Hyundai Tucson provides a unique blend of qualities that we know are important to car shoppers. This two-row SUV is a great value, capable, and incredibly safe, and this is true of every new Hyundai Tucson for sale at our dealership. Keep reading for some more details about the Hyundai Tucson!
How Does the New Hyundai Tucson Suit Your Needs?
There are few limits to what the new Hyundai Tucson offers Berkeley drivers. It is a crossover SUV, so its compact exterior is great in the city, and it provides impressive fuel economy for the SUV class. As you'll notice with the listings on this page, the new Hyundai Tucson is affordable, and it provides further value with its standard features, which range from Forward Collision-Avoidance Assist to an infotainment system with Apple and Android compatibility.
What's more, the Hyundai Tucson has a versatile design. There is a lot of open space in the cabin, which is great for getting five passengers and their bags around town. This design is also great for those wanting to explore our beautiful state, and the Hyundai Tucson has powerful engines and all-wheel drive to get you to all the settings you wish to take in! Plus, with features like heated and ventilated seats, a panoramic sunroof, and leather upholstery, you can enjoy your vacations even more.
It's Easy to Get More Hyundai Tucson Details Near Richmond, CA
The new Hyundai Tucson has something to impress every car shopper, so if you're in the market for a new SUV, come by our dealership to see the new Hyundai Tucson for yourself!